Sports betting in New Jersey was launched in 2018. Forms of legalized gambling in New Jersey include the state lottery, charitable games as well as racing. Sports betting has become one of the most robust markets in the country. New Jersey has legal sportsbooks at tracks, casinos as well as via mobile apps. The first legal wager was taken at the Monmouth Park Racetrack in June 2018.
In the state of New Jersey, sports betting became legal in 2018. This was welcome widely by gamblers in the state. New Jersey competed with Nevada and became the first state to ever have more money legally bet on sports. In 2012, the state passed the sports betting bill but received major backlash from the various sporting leagues. Eventually, in 2018, the Supreme Court of the United States decided in favor of the state of New Jersey and the state finally made sports betting legal.
Top NJ Gambling Sites Online
New Jersey Sports Betting Update
Various sportsbooks in New Jersey offer sometimes up to 20 different sports markets. The most common ones include the MLB, NHL, NBA, NFL, MLS and Collage sports. Most bettors in NJ typically wager on sports they are accustomed to. Major League Soccer is one sport that is slowly gaining popularity in New Jersey. Markets available for soccer can range up to 250 compared to 125 for the NFL. Currently, there is a total of 26 online and land-based sportsbooks in New Jersey. There are nine Atlantic City casinos and out of that, eight offer retail sports betting alongside Monmouth Park and Meadowlands Racetrack.
Online Sports Betting New Jersey
Online sports betting officially kicked off just a month after the fall of the Professional and Amateur Sports Protection Act (PASPA). It was in 2018 that 0nline sports betting officially went live. New Jersey's supports online betting is popular because of companies like FanDuel and DraftKings. These platforms allow placing bets from their smartphones when within the state lines. More than 80% of all sports bets in the state of New Jersey were made online. There are three types of legal gambling permitted in New Jersey. These types include horse racing betting, online poker and casino as well as daily fantasy sports. In 2013, the state of New Jersey launched the online poker bill. Online revenues are the highest in NJ. Casinos in the state make over $15 million per month.
There is a total of 17 online sportsbooks currently based in New Jersey. The state allows residents to place a wager online. There are various sports apps available from both the Apple App Store and Google Play. All online sportsbooks in New Jersey are monitored by the DGE. Each sportsbook goes through a rigorous application process to ensure that they are in line with the state's regulation.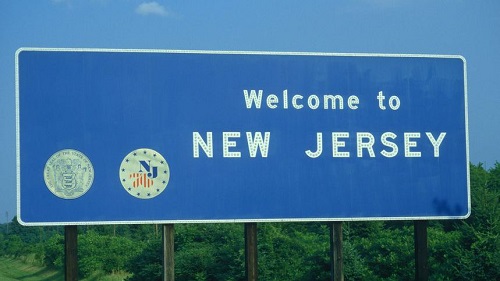 NJ Gambling Laws
The state of New Jersey won the battle on sports betting in 2018. The 1992 federal law on sports betting was struck down by the Supreme Court. In 2014, New Jersey introduced a legislation that canceled its own sports betting ban. That new bill was an attempt to enable horse betting tracks and state casinos to offer sports wagering by working around the Professional and Amateur Sports Protection Act. New Jersey battle the sports betting case for three years and lost at the US Supreme Court. The state filed for an appeal in 2017.
New Jersey Sports Betting Revenue
Sports betting in New Jersey has garnered large revenue. In less than a year after sports betting becomes legal, the state recorded monthly revenue shot up to $38 million. Legal NFL and college football betting in New Jersey clocked $184 million. The share of sports betting in NJ that came in through mobile betting came up to 84%.
Can You Bet On Sports In New Jersey?
Yes, you can bet on sports in New Jersey. Sports betting laws in New Jersey include provisions for gamblers to place wagers anywhere within the state's borders. Laws that govern casinos state that each property needs to deploy as many as three individual brands, the first of which launched in August 2018. New Jersey online casinos and poker sites have been operating since November 2013.
More US States that Allow Sports Betting